I grew up buying fishing rods from local stores but always struggled to find the one that fit me. I would always find rods that had parts of what I was looking for but not the right color or length and I always found myself having to settle for something and never having that "favorite" rod.
I have since found that I can make my own fishing rod just the way I like it and it is easy! When it comes to making a fishing rod one of your own you always want it to stand out from the others.
Here are 5 of the most used accessories that will make your fishing rod pop!
Rod Decals
There are different types of decals available:
Fish
Military branches
College
Flags
Mermaids
Sports jerseys
Fish and Snake skins
Custom
And many more!
You can add the type of fish that rod is used to catch, represent your favorite college, military branch or state, or make it personal with a custom decal. These decals come with an adhesive backing that makes it easy to place where you would like and add a small amount of epoxy over it to help protect the image and create a long lasting image.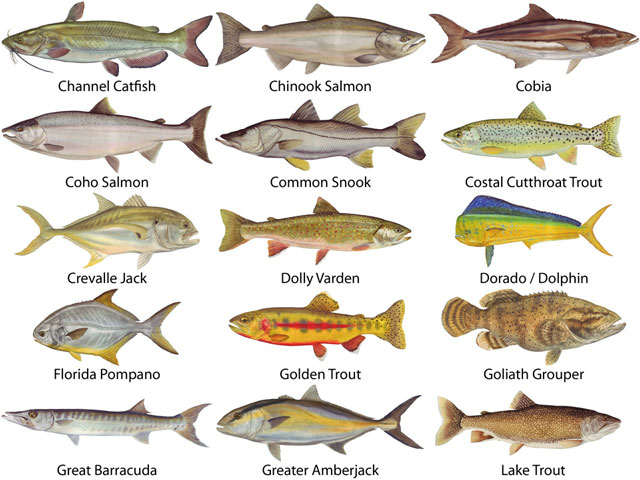 Custom decals can be a personal touch to note that the rod was built specifically for a friend or family member, in memory of someone, your name or even your company name and logo.
Anodized Aluminum Winding Checks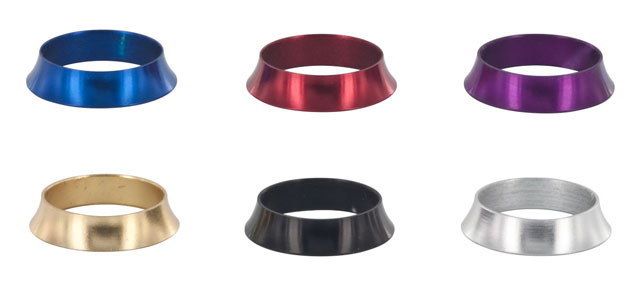 All three styles come in a variety of colors that add a little flare to your grips. They help make a smooth transition from the blank to your grips as well as cover any imperfections with reaming or inner diameter. They also add a pop of color to tie in the theme of your rod and accent your grips that will stand our just slightly more than thread.
Custom Grips
There are several different ways to make your grips custom to your liking. Such as Winn grips in a variety of colors, shapes and lengths; as well as EVA grips that are a little new school with swirls and multi color camo.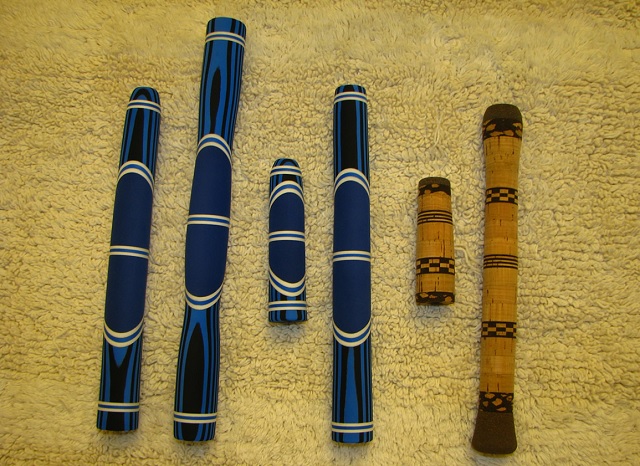 You can also make a custom grip with a variety of cork rings and colored EVA in blocks and 24" lengths. You can use the blocks to turn your own custom full-length grip or cut the 24" lengths into pieces with angles and different widths and glue them together to make a grip specific to your style or the theme of the rod
Thread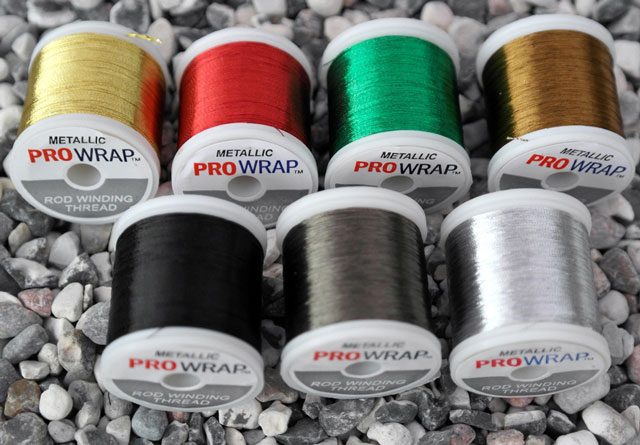 There are a LARGE variety of colors to choose from as well as sizes and styles. From elegant butt wraps, a little extra flare with a trim band, under wraps or an elaborate weave your options are limitless. You can choose from solid colors in colorfast, nylon and metallic as well as twist and braid threads.
Colorfast thread comes with a color preserver already applied so that the hue you chose will not fade over time due to sun exposure.
Nylon thread does not have any color preserver and tends to become transparent after epoxy finish is applied.
Twist and braid threads are used mostly for butt wraps and weaves to create more dimension. It is multiple colors or styles if thread wound together to make multiple patterns.
Metallic thread is used for trim bands at the end of guide wraps for a pop of color and in butt wraps and weaves. It is NOT recommended to use metallic thread as the main wrap for your guides, as the tinsel fabric is very frail and will not be a sturdy over time.
You can also choose from three different sizes, A at 0.006, B at 0.008, and D at 0.010(listed smallest to largest) measures in inches. Size A is used for wrapping guides on fly rods, ferrules on multi piece rods and for under wraps mostly. Although size A has some specific uses all three sizes can be used for all applications and is chosen mostly by personal preference and experience.
Abalone
In addition, you can select abalone, which is a very fragile material but makes for a beautiful accent to any rod. It comes with an adhesive backing that makes it much easier to handle when applying to the rod with small amount of heat using a heat gun and finished with a light coat of epoxy. It is an elegant addition to any rod and will definitely make your fishing rod stand out from others.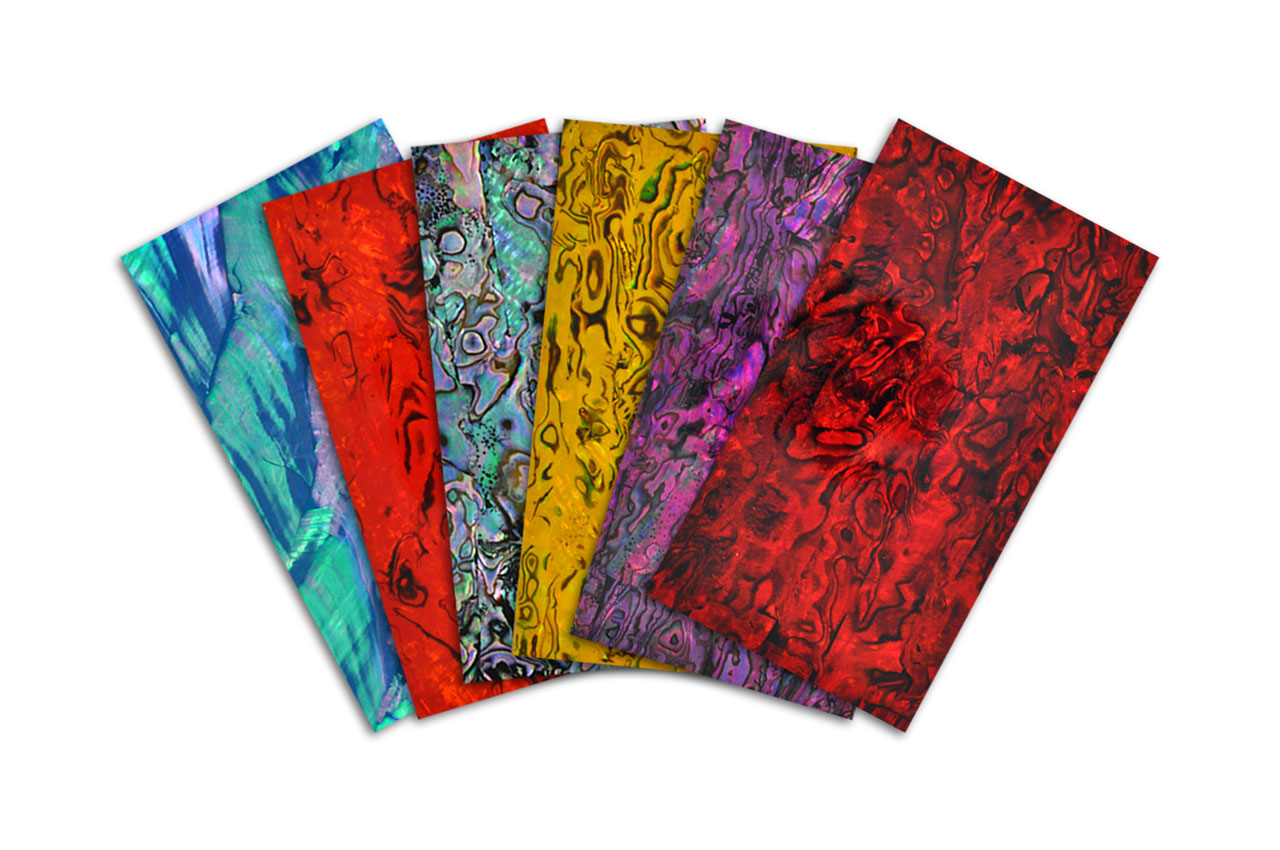 Abalone, once applied, is a fairly smooth surface, which will allow for the previous accessories to be applied on top. You can create a butt wrap on top of the abalone to create a 3D look, place decals on top or even add a winding check or thread to make a smooth transition from your creation to the blank.
There are so many ways to make your fishing rod unique and make your build stand out from all of the others. Once you learn how to build a custom rod you will always have at least one "favorite" ready to go when the fish are biting!