Picking out a fly rod is a little different than picking out a spinning or casting rod, but the same logic applies and common sense should trump all the marketing hype out there.
Orvis has a nice video at the end of this post that goes over some of the questions you should ask yourself, but we wanted to give you an overview of the fly rod options out there.
Fly Rod Ratings
Fly rods are rated on a scale of weight from 1 to 15, and the numbers are assigned by the American Fly Fishing Trade Association (AFFTA).
The weight rating indicates the line "weight" needed to properly flex or load the rod for casting. For example, a 1-weight is the lightest rod, and 15-weight is the heaviest.
Matching Rod Weights To Applications
Here are some examples for the different fly rod weights and what applications they may be used for. As with all rods, personal preference and opinions will vary, so as you read this, remember your mileage may vary.
1 and 2-Weight Fly Rods
These are good choices when fishing ultralight freshwater fisheries, and are suitable where small flies are used for panfish and small trout.
3 and 4-weight Fly Rods
These are also good choices when fishing ultralight freshwater fisheries, but are a little more versatile than the 1 and 2-weights.
They are more versatile in that they can throw heavier flies, so if you are fishing in heavy wind, this will help get the fly on target. These also come in longer length options, which make it easier to mend your line and make roll casts.
5-weight Fly Rods
Probably the most popular size by sales volume, it can be used for light Freshwater applications.
A popular rod for the trout stream, it is also excellent for larger panfish and small bass. Many fly fishermen like to use it for heavier applications for the thrill of the fight, and if you know how to handle larger fish on lighter fly gear, this can be a world of fun!
6 and 7-weight Fly Rods
These are also good choices when fishing medium Freshwater and even light Saltwater fishing applications. It is also a good choice for throwing larger flies for larger trout in rivers, and for heavier bass fishing.
They also work well as light saltwater rods for bonefish and other small flats species. The added lengths and line & lure support also make it easier for casting in windy conditions.
8- and 9-weight Fly Rods
These are good choices when fishing heavy Freshwater to medium Saltwater applications. Heavy Freshwater examples would include carp or bass fishing with large bugs, while good medium saltwater examples would be bonefish, baby tarpon, snook, etc.
10-weight Fly Rods
These are good choices when fishing for extremely heavy Freshwater applications. 10-weight fly rods are also used for medium to heavy Saltwater applications such as tarpon, salmon, roosterfish, and permit, where fishermen are casting very heavy or large flies – typically with extreme wind situations.
11- and 12-weight Fly Rods
These are good choices when fishing heavy Saltwater applications and are specifically built for large saltwater species such as adult tarpon.
13, 14 and 15-weight Fly Rods
These are good choices when fishing extremely heavy Saltwater applications and often used for billfish, sharks, tuna and other extreme big-game fish.
Fly Rod Length
Again, one size does not fit all, but here are some recommendations on fly rod lengths.
Fly Rods Under 9 Feet
Rods shorter than 9 feet are typically useful when fishing on small streams or other tight spaces. These rods may be a handicap on longer casts or when mending line, but these shorter rods feel lighter and are less tiring to use.
Fly Rods 9 Feet
Probably the most popular of fly rod choices, 9 foot fly rods handle various fishing conditions well without the extra weight and casting effort that comes with longer rods.
Fly Rods Over 9 Feet
Fly rods over 9 feet make longer casts much easier than shorter rods, and are better choices for mending and other line-handling techniques. The extra weight can be more tiring than shorter rods, but can provide more leverage for stillwater fishing and float-tube applications.
Fly Rod Action
Fishing rods are also commonly referred to by the action of the rod. The fly rod action describes where the rod bends, not the rod's stiffness.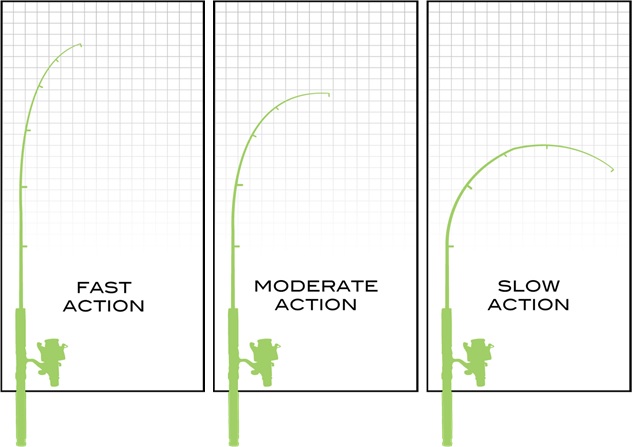 The most common actions are:
Fast action: where the rod bends primarily near its tip.
Medium or moderate action: where the rod tends to bend more toward the middle.
Slow action: where the rod bends well into the bottom, or butt end.
Keep in mind, when comparing rods; it is assumed that rods of similar length and weight are being compared when the same force is applied. For example, even extra-fast action fly rods will bend deep into the rod if enough force is applied.
Fly Rod (Blank) Materials
The finished fly rod starts with a rod blank, which you then put the rod guides, handle, etc. on to make a completed rod. Most modern fly rod blanks utilize graphite as the principal material for construction, although there are still some fly rods made of fiberglass or bamboo.
Graphite (carbon fiber) is strong, stiff and light when compared to fiberglass and bamboo, and it is that stiffness that can generally be attributed to the modulus (the ability of the rod to bend) of the graphite used.
High-modulus graphite is stiff compared to its weight, and rods made of high modulus graphite tend to be light and sensitive, but still powerful.
Low-modulus graphite is usually more durable, and rods made of low-modulus graphite tend to be heavier and less sensitive.
Still need more information on fly rods before you make a decision? Check out this helpful video from our friends at The Orvis Company.
Orvis Video – Choosing a Fly Rod