A Clouser Minnow is one of the first flies I learned to tie as a kid. I am sure many others can say the same, as it is one of the most versatile flies for both freshwater and saltwater. The Clouser can be tied in many different color variations allowing it to mimic just about any specie of baitfish. This is a must have in your fly box. Don't know how to tie it? We have you covered!
Needed Materials
Hook size #4-2/0
Dumbell Eyes
Bucktail (2 Different Colors Preferably)
Flashabou
3/0 Thread (Match Bucktail Color)
Pro Tip: Use a material kit to get started!
The Tie

Secure the hook properly into the vise and thread up your bobbin. Start your thread towards the eye of the hook and wrap towards the bend of the hook.

Tie in your dumbell eyes approximately 1/4″ from the eye of the hook. Cut a piece of bucktail about double the length of the hook.

Now tie in the bucktail on the top of the hook starting in front of the hook eye, over the top of the dumb eyes. Secure the bucktail at the rear of the dumbell eyes. Take a few strands of flashabou and tie them in on the right and left side of the fly.

Rotate the vise(if you are not using a rotary vise, you will need to remove the fly and place it upside down in the jaws) so the hook point is facing upwards. Tie in your second contrasting color of bucktail from the eye of the hook towards the back. Build the head of the fly up with thread and whip finish!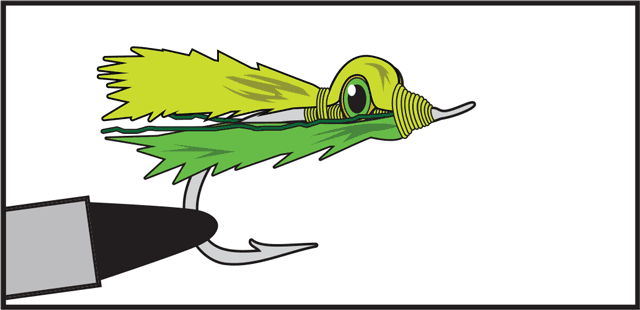 The Wrap Up
The Clouser Minnow can be found in most fly-fisherman's box. It can be deadly in many different fishing situations and it is a breeze to tie. Add a few different color variations to your box, and when the fish won't eat anything else, try feeding them a Clouser Minnow.