In this article, long time lure maker Marc Wisniewski reviews the Essential Series by Do-It Molds, and why you may want to consider building your own soft plastics.
I started playing with pouring soft plastics about 30 years ago now. The plastic was unpredictable. The molds commercially available were crude and the selection was very slim. Most of the lures I poured were made from Plaster of Paris molds. As a home molder you were forced to get good at plaster Paris molds coated with epoxy if you wanted anything unique. They were all one piece flat sided molds which were certainly fishable but lacked the polished look of a store bought worm or lizard.
About 15 years ago I discovered the underground connection to two sided aluminum molds. These were made by machine shop owners with CNC machines that also had a deep interest in fishing and making lures. Now, the basement home brew guys had the molds we needed to create professional looking full-round lures. Do-Its Soft Bait line is a perfect example of these high quality CNC cut aluminum molds. As far as soft plastics go, there is almost everything you need available to create worms, grubs, drop-shot baits, frogs, panfish baits and on and on… For us hard core hobbyist lure makers, it's now heaven with all these options available. The only drawback is on some of these is the cost.
Essential Series Is Affordable
For the average angler, making your own lures may be highly desirable, but in some cases molds in the $100 range become impractical for the average weekend angler. For this very reason, Do It Soft baits have introduced the new Essential Series. All the common molds the average angler needs at an extremely affordable price.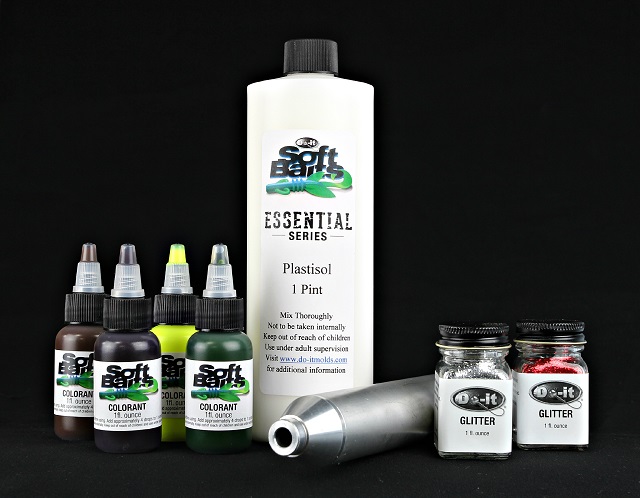 Do-It Softbaits original series are probably the finest quality CNC cut aluminum molds in the business. Unfortunately, most of the cost of a mold is the time required to cut them on the CNC machine. So in an effort to make a more affordable product for the average fisherman, or angler contemplating this hobby, Do –It discovered a way to produce molds at an incredible price of forty dollars. This is a half or a third of the price of the same mold cut on a CNC machine. The Essential Series is eleven new molds at a price that will pay for itself almost instantly.
So how did they "Do-It"? Do-It has been making "poured aluminum" jig molds for decades now. They have taken that technology and applied it to their Soft Bait line to produce a poured aluminum soft bait line that eliminated the CNC process thus reducing the price. At $40, it takes nearly nothing to re-coop the price of a mold and make the exact lures in the colors that you want.
So your first question is, and should be, how do the baits look? Well, I can tell you that Do-It has perfected the poured aluminum process so well that I dare you to tell the difference between the Essential Series molded lure and the CNC mold bait. You would need a jeweler's loupe to examine the ribs on the Senko Worm to find the difference. There is certainly no fish out there that would notice the difference!
So as I mentioned, the Essential Series features eleven new molds that cover the most common soft baits that most anglers use. Bass and Walleye anglers are going to love the selection.
All Your Favorite Soft Plastics
Let's start with what I think is the headliner. This is one that will pay for itself in about two or three fishing trips or one trip to the tackle shop. It's the 5" Senko worm. Oh, and it's not just a knock off Senko Worm. Do-It has partnered with Gary Yamamoto to offer the "real" 5" Senko Worm. The Senko worm is the bread and butter bass lure for so many bass fishermen from north to south and coast to coast. Wacky rig it, Texas rig it, drop shot it, break them in half and fish them on a jig "Midwest finesse" style, this is the workhorse of soft plastic for the bass fisherman.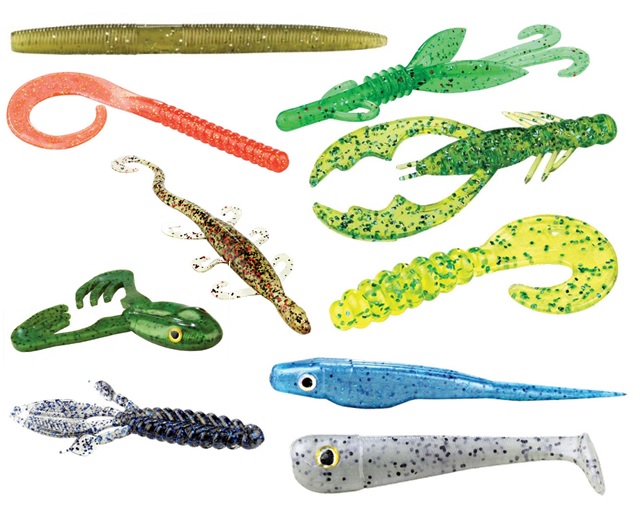 For more standard bass worms, the line rounds out with a 7" Ribbon Type worm that is great for Texas rigging and a 6" Finesse Worm that could go Texas rigged or drop-shot rigged.
Another staple for bass, pike, walleye, and even Great lakes Trout and Salmon anglers is the 5" Jerk Shad. For Bass and Pike, rig it weedless on a weighted hook and twitch it over and through the weeds. For Pike, Walleyes, and Salmonids, rig it on a Darter or Bullet head jig and work it along the bottom with short twitches of the rod tip. This is a very universal bait.
Speaking of universal baits, swimbaits are one of the hottest things for any game fish that eats bait fish. The essential Series offers a 3.75" Swimbait that can be fished in so many ways for so many species; you can't be without this one. If you fish Alabama rigs, this one pays for itself immediately.
There is nothing more fun than seeing a bass blow-up on a frog in the pads, or swimming one over shallow weed flats. This series offers a great 3.5" frog that has been driving Largemouths crazy.
No Bass fisherman's arsenal is complete without a bunch of buggy, crawly, creatures. Whether you are dressing a weedless jig, tipping a football head, or just fishing them Texas style, The Essential Series Beaver Bug, 3" Craw, or Brush Hog will fit the bill.
Essential Series Video Overview
Here is a video overview of the Essential Series from Do-It Molds.
Give the Essential Series a try, you will be glad you did!