Next to finding the spine of a rod blank, wrapping your guides is one of the most important steps in custom rod building.  When not done correctly, the overall performance and stability of the rod may be compromised.  This article is a product review of ProWrap thread and braid by ProProducts.
ProWrap Thread Sizing
Wrapping thread generally comes in four sizes that reflect the thread's diameter; A, B, C and D, (sizes A and D are the most widely used).  Think of A as Small, B as Medium, C as Large, and D as X-Large.
For lighter fishing rods, (fly fishing, bass, trout, seatrout, snapper blues), a Size A thread will probably be the choice for most rod builders.
The reason the smaller diameter thread is preferred here is because it will marry well with the smaller guides.  That said, a larger Size D thread might be a good choice for new rod builders because it will be easier to work with, (for example, less chance of getting caught when migrating from blank to guide during wrapping).
For heavier fishing rod applications, (catfish, pike/musky, tuna, grouper), a Size D thread is what you want.  Larger rods and guides require larger thread – and the stability that comes with it.
As with anything, opinions vary on what size to use, and the more you build rods, the more you will learn what is right for you.
About ProWrap
ProWrap thread has a very strong tensile strength, comes in a wide variety of colors, and can be used for traditional guide wrapping applications, as well as modern decorative techniques.
In development for over a year and rigorously tested by rod builders, ProWrap thread is available in 139 colors in Nylon, Color Fast, Metallic, Twist and Braid.
Thread is also available in three familiar spool sizes – 1oz, 4oz, and the 100yd. snap spools which work perfectly on power wrappers.
Consider one of the following ProWrap products for your next build.
Master ProWrap Color Chart
ProWrap comes in a wide array of stunning colors: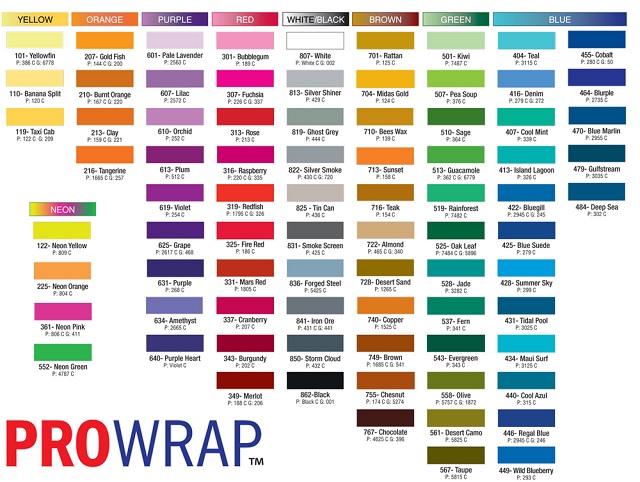 ProWrap Nylon
ProWrap's Nylon wrapping thread has a strong tensile strength and comes in 80 vibrant color choices that have been pressure dyed for color consistency, and is available in sizes A, B and D.
Color preserver is recommended with PowerWrap Nylon.
When you apply epoxy to the nylon thread without color preserver, the thread will take on a completely different color.  Functionally, the thread is fine.
Aesthetically, you may not like the unpredictable color outcome.
For example, if you choose a spool of "Red" nylon thread to match an inlay or decal, without the color preserver, the color will probably come out looking more like a brown or merlot color.
ProWrap Color Fast
ProWrap Color Fast Nylon thread features the same strong tensile strength as the Regular Nylon, but it is pre-treated to withstand the sun's damaging UV rays without the need for a Color Preserver.
Color Fast thread has inherently less bleed through, so it is a better choice for lighter color wraps that will go over a darker rod blank.  If you are doing a white thread over a white rod blank, for example, it may not matter as much.
No color preserver required!  Available in thread sizes A, B and D.
ProWrap Metallic VersaBlend
ProWrap VersaBlend Metallic threads offer rod builders a truly unique and one-of-a-kind wrapping option.  You can create unique patterns by simply applying varying tension to the thread while wrapping your rod!
This thread is perfect for decorative applications like under wraps, trim bands and overwraps.  It is offered in 100 yd. spools (size A), and is available in 9 different blends.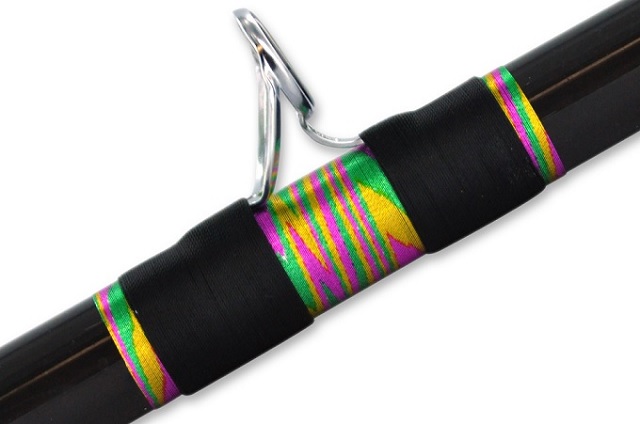 ProWrap Metallic
ProWrap Metallic threads are typically used for trim bands, butt wraps, and under wraps, and come in 39 lustrous metallic colors!  ProWrap Metallic thread features strong tensile strength and pressure dyed for color consistency.  Available in thread sizes A and D.
ProWrap Metallic does not need a color preserver, and may not be the best choice for guide wrapping applications.  Use Nylon or Color Fast if you can for wrapping guides, and the Metallics for accents and decorative applications.
ProWrap Metallic Braid
Metallic braids are highly reflective and ideal for decorative butt wraps.  With a flat and wide profile, it certainly eliminates the time consuming task of wrapping with a single thread.
The ProWrap Braid is 1/16″ (.0625″) in diameter, is available in 7 solid colors and 9 multi-color combinations.  Braids are sold in 10 and 65 yards packages.
ProWrap Tiger Thread
Introducing a "fierce" new option for rod builders.  This thread is a nylon twist available in 7 different color options.  Use it as an overwrap, under wrap or even a single band inlay and your rod will be "king of the jungle"!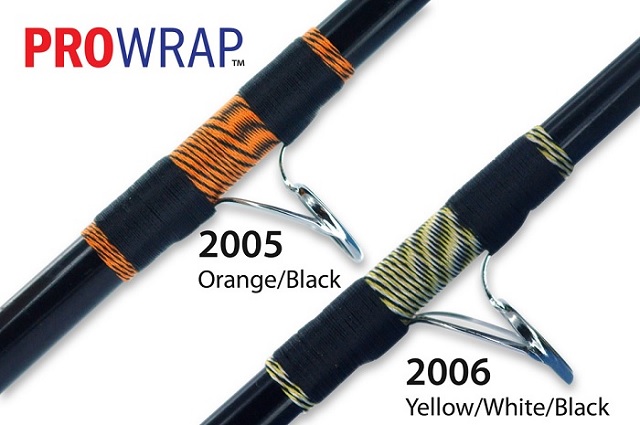 ProWrap Metallic Twist
Available in 10 colors and sold in 100 yd. spools that work perfectly on power wrappers, the ProWrap Metallic Twist thread is a unique blend of traditional Nylon thread with a Metallic twist to lend a distinctive brilliance to custom rods.
Although it has the same strong tensile strength as Nylon and Color Fast, this thread is ideally used for light to medium guide wrapping applications.
For decorating trim bands, butt wraps, and under wraps, the Metallic Twist is perfect, and does not require any color preserver steps before applying epoxy.