MHX is reinventing how rod blanks are made, and MHX rod designer Todd Vivian, with over 20 years' experience in rod design, shares his thoughts on their new Elite Pro Series rod blanks.
Here are highlights from our interview:
Let's start with the basics.  What are the Elite Pro Series rod blanks (EPS)?
Well, MHX builds rod blanks for specific applications, and in the freshwater market, there seemed to be a hole in the product solutions currently available.
Professional anglers and fishing enthusiasts alike both wanted more sensitivity for some applications like drop shot and shaky heads.  However, they did not want to make the jump to a high-modulus rod blank because of high sticking tendencies, (which is a no-no for high-mods).
---
By the way, in you would like a background on what high-modulus rod blanks are, please read: "What Is A High Modulus Fishing Rod"
---
So, the EPS fits in-between traditional graphite and a high-mod blank?
Precisely.  The EPS, while technically a high-mod blank, is 51 million modulus, which is on the low end of the high-mod scale (as opposed to our high-mods which are 57 million modulus).
This allows the rod blank to be worked more like traditional graphite, while still inheriting the sensitivity found in a high-mod.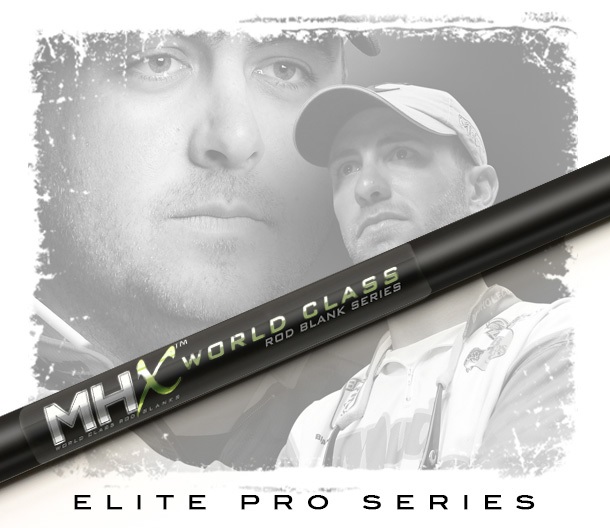 What was the design criteria for the EPS line?
Initially we made the EPS line for smallmouth and largemouth bass applications where finesse and feel plays an important role.
Especially finesse applications for bass like drop shot and shaky head, plus we wanted to make sure the new EPS models were available in the popular length, actions and powers our customers currently enjoy.
Any other applications the EPS performs in?
Well, absolutely!  The EPS line comes in many models that would work in probably 75% of the freshwater fisheries out there.  The Bass fishing applications are where we first had the idea for the EPS line, but there are models great for all species; trout, bass, perch, catfish, pike, and especially walleye.
Why especially Walleye?
We have models with progressive actions and softer tips which are absolutely perfect when trolling and jigging for fish with soft tissue mouths.  These EPS blanks allow you to feel the strike better (due to the high-mod attributes) and the moderate action keeps the hook in the mouth longer and (when paired with a swooping hook set) won't damage the fish when releasing.
How is the marketplace responding?
They are doing very well.  We often get the question from the builder "I cannot decide whether to use the Standard MHX or the High Mod version" – well now you can have the best of both worlds. Durability, light weight, small diameter, and extreme sensitivity.
They sound awesome, anything else you want to say about the EPS line?
Well, although we talked about freshwater applications, they actually make incredible inshore saltwater rods.  I mean, when redfish and snook fisherman ask us for a great popping or spoon blank, we suggest most of them go with the EPS blanks, for the reasons we mentioned.  So if you need an inshore or even near shore rod, you may want to check out our new EPS rod blanks.
Be sure to check out the Elite Pro Series and see why you should Fish MHX!