For those who are new to rod building or fishing, deciding on what rod to use for a specific fishing application can seem overwhelming.
This article provides an overview that describes the difference between rod power vs. rod action so you can make a more informed choice.
Check out our infographic at the end!
Fishing Rod Action vs. Power
There are many things to consider, including line and lure weights, fishing applications, and of course – price.  That said, there are two areas that are extremely important – rod action and power.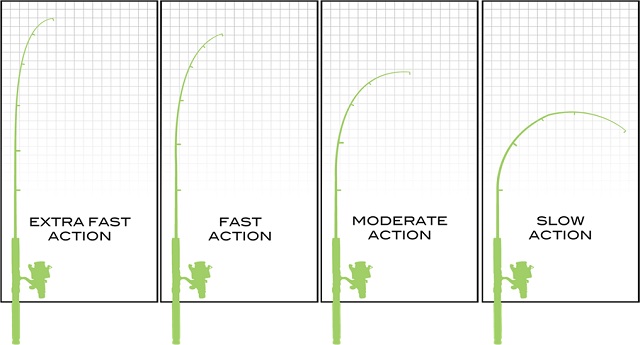 About Rod Action
The "action" of a rod is determined by where a rod flexes along the blank.  Faster action rods flex mostly near the tip.  Moderate action rods flex more near the middle of the blank.  Slower action rods flex down into the butt section.
Fishing Rod Blank Actions
Here is a list of rod actions you will encounter:
X-Fast Action
Extra Fast action rods offer a high degree of tip sensitivity and offer faster power during hook set.  While it can be used in a variety of fishing situations, it is most popular with single hooks applications like worming and jigging.
Fast Action
Fast action rods are a great choice when you want a rod for all fishing applications.  This is because it is a healthy balance of fast tip and sensitivity, while still providing some forgiving power for a softer hook set.
Moderate Action
With moderate action rods you trade a little less sensitivity for a little more casting range.  These are great rods for treble hook applications like crankbaits because the lighter action on hook set keeps the lure in the fish's mouth.
Slow Action
Slow action rods bend most of the way down, and have become much less popular in today's fishing applications due to the technology advances in rod design – but ultra-light and some fly fishing applications still utilize these soft rods.
About Rod Power
The "power" of a rod refers to how much pressure it takes to flex the rod.  Different rod powers are engineered to efficiently handle a certain range of lure weights and line sizes.
To select a rod power that will perform best for you, simply narrow your choices to rods designed to cast the weight of lures – and sizes of lines – you'll fish with most often.
Some rod blank manufacturers' may offer unique power rating for specific rods and applications, but in general, fishing rod powers can be classified as follows:
Rod powers you will encounter:
UL – Ultra-Light
L – Light
ML – Medium Light
M – Medium
MH – Medium Heavy
H – Heavy
XH – Extra Heavy
As the names imply, the more power your fishing application requires, the further down the list you should choose.
For example, if you are fishing for Panfish, choose an Ultra-Light.  Conversely, if you are cut baiting for big Blue Catfish, choose a Heavy power.
Infographic: Rod Action vs. Power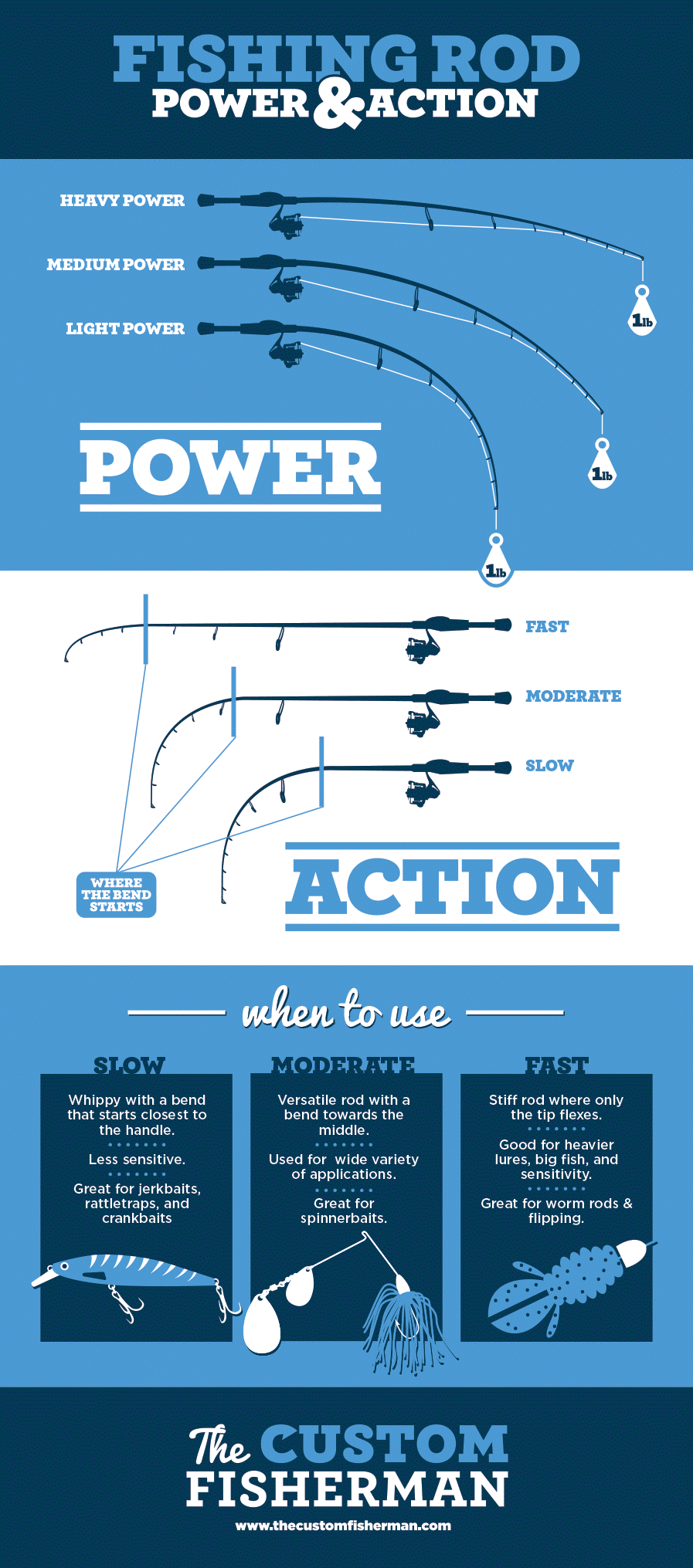 Hope this article helped you out.