If you fish offshore for pelagic species, you know that having the right rod makes the difference between a landed fish and the one that got away. For many saltwater fishermen, they exclusively use MHX Offshore Rod blanks for all of their offshore needs. This article reviews a few key reasons why MHX needs to be your go to saltwater stick.
For those who are new to rod building or fishing, deciding on what rod to use for a specific fishing application can seem overwhelming. This article provides an overview that describes the difference between rod power vs. rod action so you can make a more informed choice.
In this article, nine-year veteran of the Walmart FLW Tour Jim Dillard discusses how he got into rod building and shares some of his tips.
Knowing the right tip-top size to replace the broken one on your rod seems like a simple task at first, but with all the different size numbers it can be a little overwhelming. This should clear up most of the confusion between the tube and ring size debacle.
If you want to really dive deep into the physics of it, try Googling "Modulus" and "Modulus of Elasticity" for more detail - but have the aspirin ready. This article overviews what a high modulus fishing rod is, and why it may be a right choice for certain fishing applications.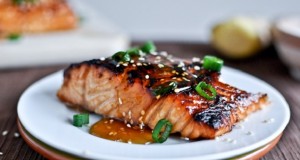 I call this recipe "Asian salmon with brown rice and spring stir fry" and it is favorite. The savory marinade paired with the earthy tones of the brown rice and fresh spring vegetables will win over even guests who may not always crave fish dishes.
If you think you need to go to a bait shop before you go fishing, think again. Here are some baits found in your kitchen or pantry.