So here's the situation, you are looking at slightly higher waters, lots of current, and the river bed is full of rocks and formations.
The good news is you know there are huge trout in there; the bad news is every time you throw a bait & weight – you end up snapping your line on those rocks.
The Tube Weight
The tube weight is basically a piece of surgical tubing attached to a 2-way swivel. A piece of pencil lead (which comes in a roll) is inserted into the tube.
One end of the swivel goes to the rod, the other hosts a leader that runs anywhere from 24 to 72 inches.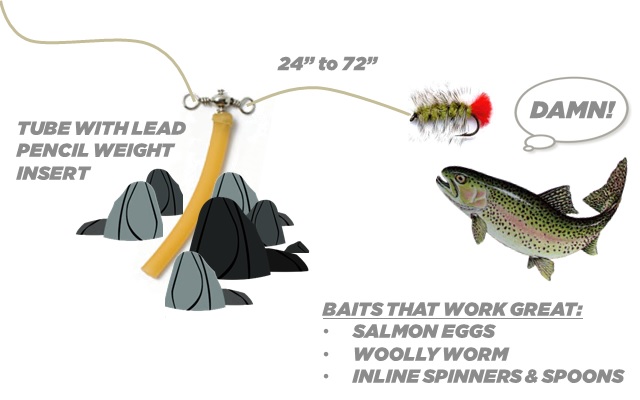 When you cast out your line, the tube weights will roll with the current and snag up on some rocks. This means that your bait (or lure) will stay where you want it.
You may have to cast a few times before the tube weight does in fact settle in on the rocks, but once it does, you are good to go.
Tube Weight Pops Out With Tension
The neat thing about this system is that when tension is applied to both ends of the line, the tube weight actually pops right out from the rocks.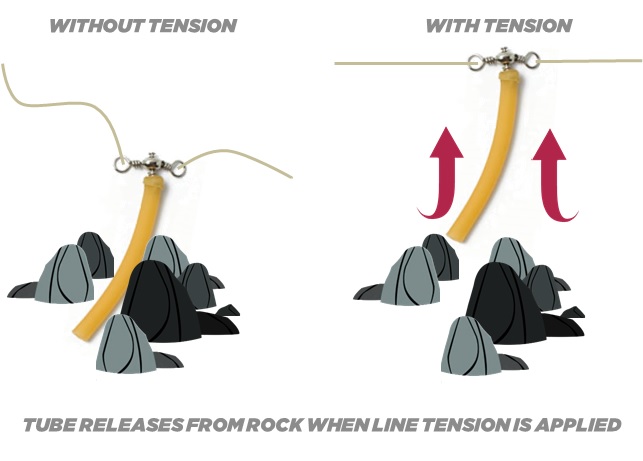 Tension can be applied manually, or if a fish strikes your line, that can cause the tube weight to release as well.
Now nothing works right 100% of the time. For example, the rod end of the line can still snag on a rock up against the swivel eye, in which case you will probably be stuck and snap the line.
So nothing is perfect, but trust us, if you want to fish the rocks and EXPONENTIALLY reduce the number of times you get hung up on the rocks, use this tube weight system.
What Baits Work Well
With this tube weight rig you are only limited to your imagination. That said, we have found this setup works great for trout using salmons eggs (preferably cured sacks), inline spinners and spoons, and even Woolly Worms that are usually used in fly fishing applications.
A big 'ole nightcrawler wedding ring also works well too!

Just make sure you do not cast the wedding ring because it will probably tangle. In this case, try going farther upstream and feed your line down to the desired spot (much like you would in a slow troll on your boat).
Big trout love lots of rocks – so give the tube weight rig a try!