Although you may have bought many fishing rods in your life, how many times have you considered the guides on that pre-built rod?
For many, they usually just give it the eyeball test.  If it looks cool, we buy it.
However, now we are building our own custom fishing rod, and the sky is the limit when it comes to rod guide options.  So let's dive in and review the types of rod guides available, and what applications they are generally used for.
Keep in mind that these are suggestions.  Custom rod building is just that – custom – to what you want and not necessarily what others do.
Types Of Rod Guides
Determining the type and size of guides for your rod building project can be confusing at first if you don't understand some of the basics.
Rod guides come in many shapes and in a variety of materials.  The quality of a guide depends on the composition of both the guide frame and the ring.  When sizing your guides for your rod, keep in mind that guides are measured by the outside diameter (OD) of the ring in millimeters.

The natural tendency is to ask "which one is better" but resist this temptation.  It's about what you want and what feels right to you.
That said, here are some starting points.
Trolling Guides
Trolling guides are generally used in heavier fishing applications, especially in offshore and near shore fisheries.
They are ideal to use on med-heavy to extra-heavy boat rods, usually have a heavy gauge one piece stamped stainless steel frame, and provide more protection from corrosion & added strength for durability.
Double & Single Foot Guides
These are probably the most commonly used guides, and rod builders have healthy debates over where and when to use them.  So here's our simplified take on the subject.
Double foot guides are a really good choice for the first and second guides (starting from above the fishing reel) and then you can use single foot guides to finish the run to the tip top.
Keep in mind the guides narrow the further up the rod you go to reduce fishing line friction and aids in getting a better cast.
That said, for heavier applications (e.g. Northerns and Musky) many rod builders like to run double foot guides all the way up.  While lighter applications can use single foot guides throughout the guide run.
There are pros and cons to everything, So do what feels right to you!
Double foot guides do add more weight to the rod.  Is that good or bad?  Well, it really depends on the fisherman's preference.  Some actually like the feel of a slightly heavier rod, and the double foot guide is a bit more forgiving if you step on it.
Conversely, some fishermen prefer to keep their rods as light as possible, so they try to use single foot guides whenever possible.  Some even use fly rod guides on non-fly fishing rods.
Fly Rod Guides
Wire guides are available in both traditional double foot, commonly known as snake guides, and single foot styles.  These guides also come in a variety of finishes.
Wire guide sizes generally include 6, 5, 4, 3, 2, 1, 1/0 and 2/0 with 6 being the largest.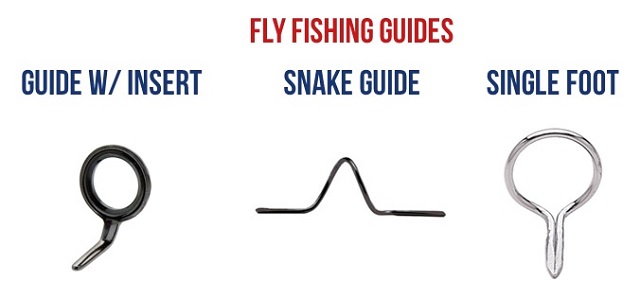 There are also single fly rod guides with inserts that can be used in place of wire guides.  As with all stripping guides, the quality of single foot fly rods depends on the composition of both the guide frame and the insert ring.
Single foot fly rod guides are generally available in sizes 10, 8, 7, 6, and 5.5.  These sizes give the diameter of the guide ring in millimeters.
As mentioned above, many rod builders like to use the single foot fly guide with inserts on their non-fly fishing rods.  It's really all up to you.
Tip Top Guides
There is more to a fishing rod tip top guide than you may think.

Insert Ring/Loop Sizing
The first measurement in a Tip-Top is the OD of the ring (eyelet) in millimeters.  Generally, the inside diameter (ID) of the ring will match the smallest guide on the fishing rod.
Standard sizes are 6, 8, and 10mm for conventional rods, while heavier saltwater rods may go as high as a 16mm ring.
Tube Sizing
The second measurement in a Tip-Top is the ID of the tube, measured in 1/64ths of an inch.  The tube size should correspond to the size given by the manufacturer of your blank.  Tube sizes generally range from 3.5 to 12, but they go all the way up to 32 (.500?) in Big Game roller tops.
Insert Rings
Sizes can vary depending on the manufacturer, and are measured in millimeters.  On guides with insert rings, the measurement is taken from the OD of the insert ring.  On wire guides, the size measurement is taken from the ID of the loop.
---
For more on sizing a tip top guide for your fishing rod please read Choosing The Right Tip Top Size For Your Fishing Rod.
---
What Should You Use?
No easy answer.  Maybe the best thing to do (to get started) is to browse the different guide kits available.  Our friends at Mud Hole Custom Tackle have hundreds of guide kits available, for every fishery out there.
By looking at the kits their rod builders have assembled, you will get a feel for the different combinations that other rod builders are using.
So research and try a few options and see what you like.  Then go fish it!