This article highlights the differences between the largemouth and spotted bass.  It is easy if you know what to look for.
Some states have different limit sizes for each type, so it can be important to differentiate and identify between the two.
Identifier A:
Largemouth bass have a definite lateral stripe, while a Spotted bass has a more irregular lateral stripe, which is more broken than with the largemouth bass.
Identifier B:
The Largemouth bass has a jaw that extends well behind the back of the eye socket when mouth is closed.  Spotted bass have a jaw that does not extend beyond the back of the eye socket when mouth is closed.
Identifier C:
The first and second dorsal fins on a largemouth bass are separated, while the first and second dorsal fins of a spotted bass are connected.
Kentucky's Take On Differences
The Kentucky Department of Fish & Wildlife also had some great visuals to really see the difference.
Take a look at how they describe the differences between the spotted and largemouth bass.
Largemouth Bass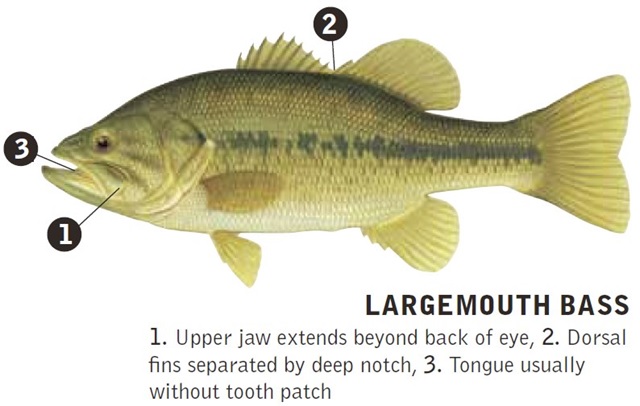 Spotted Bass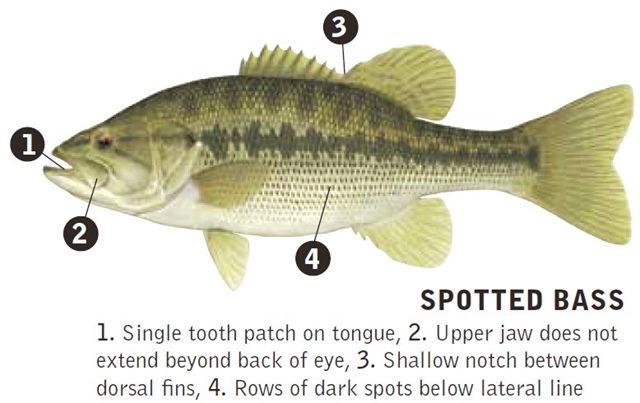 Interesting to note, although the largemouth grows considerably larger than the spotted bass, the fishing tactics for both bass species are very similar.
Hope this was helpful.